The Alpha-Stim 100 can be used to treat pain, anxiety, depression, insomnia and related disorders.

Welcome...




Electromedical Products International (EPI)

has been in business since 1981. EPI developed Alpha-Stim microcurrent technology which is employed in a variety of products. EPI is a proven leader in the field of electromedicine.

Both the Alpha-Stim 100 and Alpha-Stim SCS (Stress Control System) treat anxiety, depression and insomnia. The Alpha-Stim 100 also treats acute, chronic, and postoperative pain and the new Alpha-Stim PPM (Personal Pain Manager) is designed as an alternative to TENS for localized treatment of pain. The primary distinctive feature in a medical device is the waveform, and Alpha-Stim has a uniquely effective waveform. The application of direct electrical treatment to the brain, along with our treatment protocols for pain also makes the difference that no other device has been able to emulate. Further, Alpha-Stim technology has been shown to be far more cost effective than prescription drugs.

Alpha-Stim is very safe. Only one out of 506 people will experience a mild headache, and one out of 910 will have a skin reaction at the electrode site. Usually a minor self-limiting reddening of the skin. There are no other significant side effects reported in over 40 research studies, or in 22 years of clinical and home use.

There are three ways to prove that a medical product is effective: research, surveys, and professional endorsements. Alpha-Stim has substantial evidence from all three. There is more research supporting Alpha-Stim than any other therapeutic device and even more than many drugs. Many of the studies were double-blind. This web site contains annotated abstracts of Alpha-Stim research, as well as testimonials from doctors, professional sports teams, and patients and even comments people have written on their warranty cards.

In addition to the prospective research, physicians documented Alpha-Stim technology in a comprehensive retrospective survey. The degree of significant improvement (of 25% or more) in 500 patients was 91% for pain, 94% for anxiety, 90% for depression, and 79% for insomnia. More than half of the patients exhibited an improvement of 50% or more.

Confirming the physician survey is a peer-reviewed outcome study published in the April 2001 issue of the American Journal of Pain Management that revealed an overall significant improvement of 93% in 1,949 pain patients who used Alpha-Stim for a minimum of three weeks. Most of these people failed to get results from previous therapies or they would never have acquired an Alpha-Stim in the first place. Supported by the double-blind studies, these surveys provide a good overview of results at a glance.

The Alpha-Stim is also a lot more cost effective than almost any other treatment for pain and stress-related disorders. Once the device is purchased it costs very little to use. Most drugs cost more than an Alpha-Stim after just a few months which is documented on our cost containment page. Because of the reduced amount of time it is used, and the inexpensive felt electrodes used with the probes and ear clip electrodes, the Alpha-Stim 100, Alpha-Stim SCS or the new Alpha-Stim PPM is even less expensive than the cheapest TENS unit over time.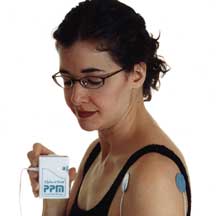 Products for sale in the USA are sold only to, by or on the order of licensed health care practitioners. In all other countries, a prescription is not required and the benefits of the technology are freely available in a number of innovative product offerings. Product information is available on this site in six languages although most of the site is in English.
Due to the massive amount of information on this site, we recommend navigating using our Site Map.
The new Alpha-Stim SCS treats stress related conditions such as anxiety, depression and insomnia.
About This Site:
This site is for informational and educational purposes only, for the benefit of existing and prospective researchers and for those persons interested in the benefits of electromedicine in general and Alpha-Stim microcurrent technology in particular. This site is being continually updated with new information. Visit us again soon and tell your friends and associates about us. Thank you for taking the time to visit us.
Disclaimer:

United States readers note: Material on this site is being provided only for educational information and as background material for potential researchers, not for promotional purposes.

Core Medical and Electromedical Products International, Inc. expresses no opinion with regard to representations made herein. The only representations are those by Electromedical Products International, Inc. who supports only those representations contained within the labeling of its products.