TREATS: PAIN • ANXIETY • DEPRESSION • INSOMNIA

Life can be brutal . . .
Why suffer?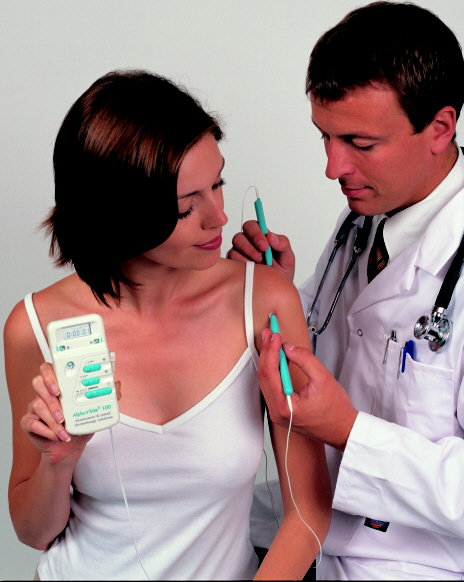 Freedom from pain...
of the body
and mind
Absolutely nothing relieves pain, anxiety, depression, and/or insomnia like the Alpha-Stim 100. Inspired by recent advances in our understanding of biophysics, the Alpha-Stim 100's therapeutic abilities have been acclaimed by health care professionals and patients world wide. Results gained from the Alpha-Stim 100 have been repeatedly verified through more clinical studies than with any other device in its class.
Treating pain with MET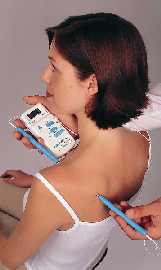 The Alpha-Stim 100 uses microcurrent electrical therapy (MET) for those suffering from acute, chronic or postoperative pain. The Alpha-Stim 100 works with the body on a large variety of ailments, including difficult-to-treat problems. Alpha-Stim 100 microcurrent technology produces residual and cumulative results, far superior to previous traditional milliampere transcutaneous electrical nerve stimulation (TENS) devices. Turn a TENS off and the pain returns. Although broadly classified as a TENS, the Alpha-Stim 100 is significantly superior because MET works with tiny currents, closer to the type and amount of electricity that naturally occurs in the body. By comparison, the electric current used by typical TENS devices is thousands of times greater than natural body current. Although a slight tingling sensation is sometimes felt under the electrodes, it is not necessary to feel this in order to achieve results. Many people feel nothing at all with the Alpha-Stim 100 except positive results. MET is applied through easy to use probes or self-adhesive electrodes. Specific treatment protocols are included with the Alpha-Stim 100 and technical assistance is readily available by telephone, fax, e-mail or mail. Alpha-Stim technology is backed by more independent research than any other device in its class. Electromedical Products International, Inc. has been in business since 1981, treating a wide variety of medical disorders with Alpha-Stim microcurrent technology during that time with no reports of significant side effects.

Treating anxiety, depression,
and/or insomnia with ces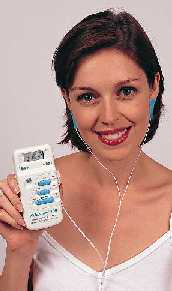 The Alpha-Stim 100 treats anxiety, depression, and/or insomnia with microcurrent using a method called cranial electrotherapy stimulation (CES). The treatment is very simple. The current is applied by easy to use clip electrodes that attach on the ear lobes. Used just 20 to 40 minutes every day, every other day, or on an as-needed basis, it can help induce a pleasant, relaxed feeling of well being. The Alpha-Stim 100 is well tolerated and very safe in contrast to drugs used in the treatment of mood disorders, many of which have been proven to have undesirable side effects and can be addictive. Unlike drugs, the Alpha-Stim 100 leaves the mind alert. Anxiety reduction is usually experienced during treatment. Depression and insomnia control is generally experienced after one to two weeks of daily treatment. CES can also help treat the underlying mood disorders associated with pain.
It may be used as an adjunct to medication and/or psychotherapy. After treatment, there are usually no physical limitations imposed so the majority of people can resume normal activities immediately. Maintenance of a relaxed, yet alert state is generally achieved with treatments three times per week. As a result, the Alpha-Stim 100 is suitable for clinical or home use.
Frequency Display

EEG before treatment
This first chart shows a typical pain patient's brain waves averaged over two minutes. This is an abnormal frequency pattern.

EEG after treatment
This second chart was taken from the same patient after 10 minutes of Alpha-Stim use. It shows beneficial smoothing of the brain waves to a normal pattern.

From research by Dr. Michael Heffernan. Comparative Effects of Microcurrent Stimulation on EEG Spectrum and Correlation Dimension. From the journal Integrative Physiological and Behavioral Science, 31(3):202-209, 1996.
How does the
Alpha-Stim 100 work?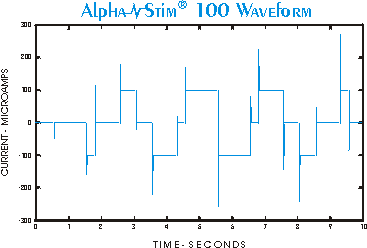 The Alpha-Stim 100 is distinct in that it is based on the concept that the biophysics underlying the body's biochemistry also plays a significant role in regulating all of life's processes. Doctors are taught that there are about 75 trillion cells in a human body, each having an electrical potential across its cell membrane, similar to a battery. Alpha-Stim's proprietary waveform works by moving electrons through the body and brain at a variety of frequencies, collectively known as harmonic resonance. This normalizes the electrical activity of the nervous system and brain as measured by an electroencephalogram (EEG).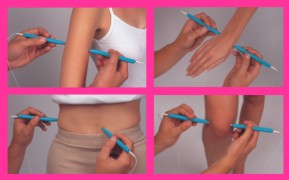 Cumulative, long-lasting results since 1981
Alpha-Stim is suitable for clinical or home use.
Easy to use probes provide quick relief from pain.

What Scientific research
has been conducted?
At present, there are over 100 research studies on CES in humans, and 20 experimental animal studies. The overwhelming majority of the scientific research is extremely positive. No significant lasting side effects have been reported. In a recent survey, health care practitioners reported the following results using Alpha-Stim technology: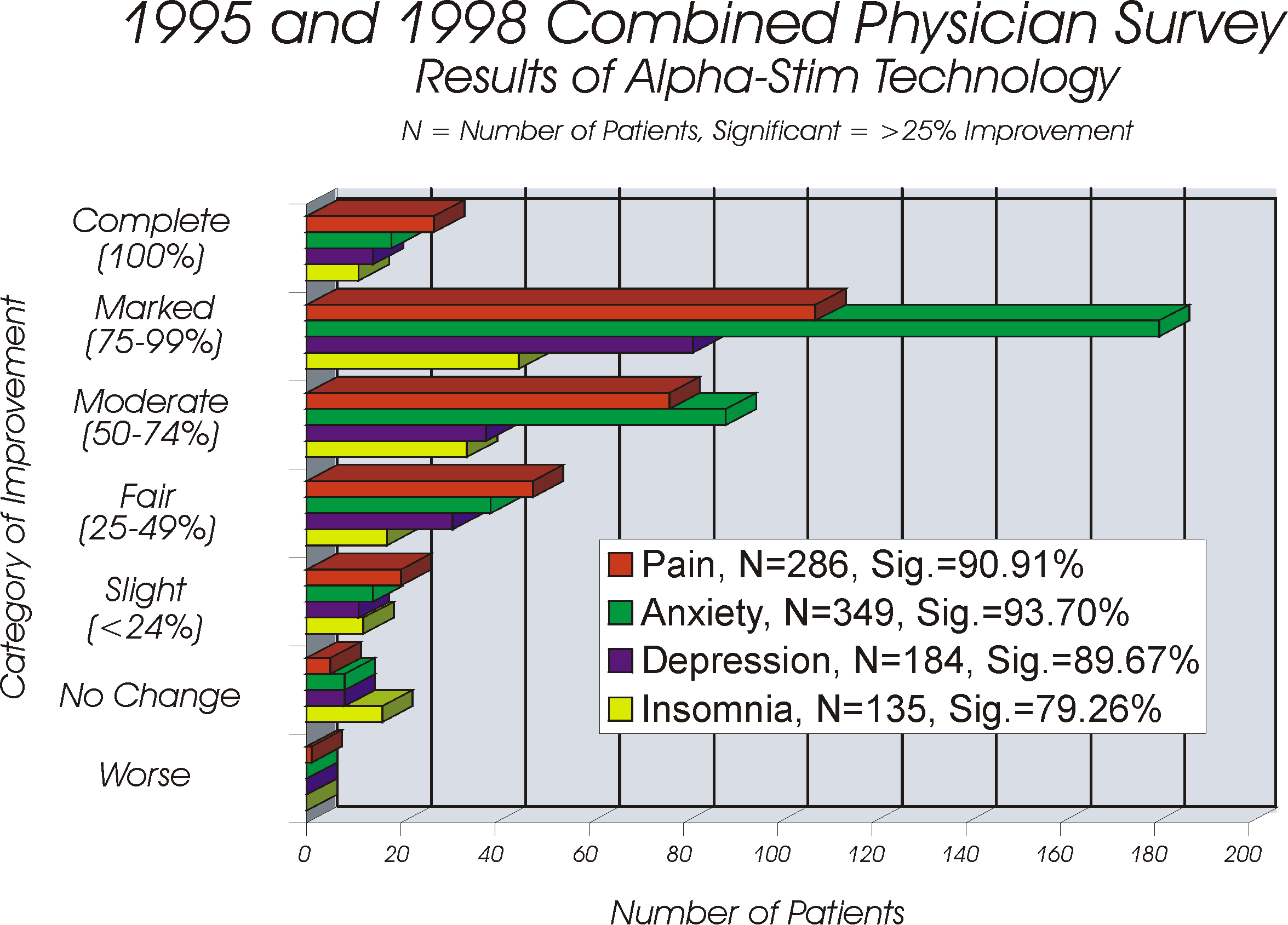 Who developed the
Alpha-Stim 100?
The Alpha-Stim 100 was developed by neurobiologist Dr. Daniel L. Kirsch and consultant engineers. Dr. Kirsch has been a leading pioneer in the field of electromedicine since 1972. He is a Fellow of the American Institute of Stress, a Diplomate of the American Academy of Pain Management and a Fellow of the Clinical Electromedical Research Academy. Dr. Kirsch has served as Clinical Director of the Center for Pain and Stress-Related Disorders at Columbia-Presbyterian Medical Center in New York City and the Sports Medicine Group in Santa Monica, California. He lectures frequently to physicians worldwide on pain and stress management. Alpha-Stim technology is backed by more independent research than any other device in its class. There have been no reports of significant side effects from any Alpha-Stim device. Only original Alpha-Stim products meet Electromedical Products International, Inc.'s exacting specifications.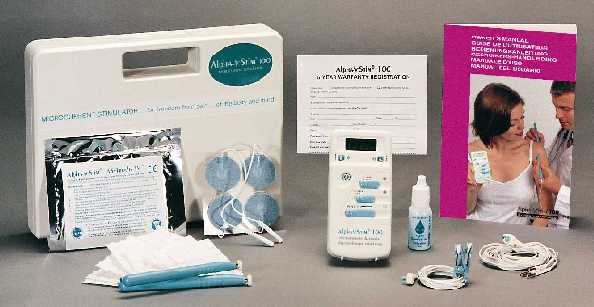 The Alpha-Stim 100 is packaged complete with one set of 4 self-adhesive AS-Trode™ brand silver electrodes (good for approximately 2 weeks to 1 month of use), electrode wires, 2 probes, ear clip electrodes, 200 felt electrodes for use with the probes and ear clips, a 15 ml bottle of Alpha Conducting Solution™ (ACS), a 9 volt battery, carrying case, and illustrated Owner's Manual. This is everything necessary to begin to use the Alpha-Stim 100 right away. Replace self-adhesive and felt electrodes only with authorized Alpha-Stim and AS-Trode™ brand products.
Five Year Warranty: Each Alpha-Stim 100 is warranted to be free from defects in materials and workmanship under normal use for a period of five years except for replacement of batteries and accessories. See Owner's Manual for complete details.
Technical Specifications

Electrical

Power Source

One 9 volt battery (included). Replace with disposable batteries (alkaline preferred).

Timer Settings

Probe (10 seconds on, alternating with 2 seconds off), 10, 20, 60 minutes, and continuous.

Current

10 to 600 µA continuously adjustable.

Frequency

0.5, 1.5, or 100 Hz (pulses per second).

Waveform

Bipolar asymmetric rectangular waves, 50% duty cycle, 0 net current (see graphic depiction above).

Mechanical

Carrying Case

Height

13.5 cm

Height

20.8 cm

Width

6.4 cm

Width

26.9 cm

Depth

3.3 cm including belt clip

Depth

4.6 cm

Weight

156gm with battery

Shipping Weight With Unit

0.91 kg
Prescribing Information
CE conformity statement for Europe: The Alpha-Stim 100 is a class IIa, Type B medical device. It has been independently tested by outside agencies in order to provide assurance of conformity to applicable standards for medical equipment safety and electromagnetic compliance.
Caution statement for United States: Federal Law (USA only) restricts this device to sale by, or on the order of a licensed health care practitioner. Outside of the USA it is available world wide without a prescription but consultation with a qualified health care professional is recommended for difficult and unresponsive problems or when used in conjunction with pharmaceuticals or other therapeutic intervention.
Indications: Alpha-Stim 100 cranial electrotherapy stimulation (CES) technology is continuously being subjected to rigorous study and evaluation by the international medical community. Findings to date indicate that the Alpha-Stim 100 is an effective treatment with broad applications for a variety of syndromes involving pain, and for the management of anxiety, depression, and/or insomnia, or for the short term relief of the symptoms of pain, anxiety, depression and/or insomnia. In many cases it is the sole therapeutic method required. Effective results in pain management have been seen during and/or subsequent to stimulation over affected body parts, adjacent areas, and areas distant from those in pain. As with any therapeutic intervention, not all people will respond to the Alpha-Stim 100. The degree of efficacy will vary with the nature of the problem being treated, the overall health of the person, and with the method of treatment.
Contraindications: The Alpha-Stim 100 may effect the operation of cardiac pacemakers (particularly demand type pacemakers). Do not stimulate directly on the eyes, or over the carotid sinus (on the neck beside the larynx).
Precautions: For external use only. Do not allow children to use or handle this device without adult supervision. Do not operate potentially dangerous machinery or vehicles during, and in some cases, for several hours after treatment. Caution is advised in cases where other forms of analgesia (pain control) would not be used; such as to retain the beneficial aspects of pain for diagnosis or in cases where people may overuse pain-controlled areas. Safety of stimulation has not been established during pregnancy. There have been isolated reports of blood pressure being lowered by CES so care should be taken while using the Alpha-Stim 100 with high blood pressure medication.
Adverse Effects: Adverse effects are usually mild and self-limiting. Adverse effects seen in approximately 4,541 patients in controlled, open, uncontrolled conditions, and by physician survey and reasonably associated with the use of CES are dizziness (6 cases, 0.13%), skin irritation/electrode burns (5 cases, 0.11%), and headaches (9 cases, 0.20%). Prolonged CES treatment at higher than necessary currents may cause dizziness or nausea that can last from hours to days. Treatment immediately prior to going to sleep may cause difficulty sleeping due to increased alertness. It is recommended that CES be used at least 3 hours before going to sleep. Paradoxical reactions such as hyperexcited states, increased anxiety, and sleep disturbances may occur.