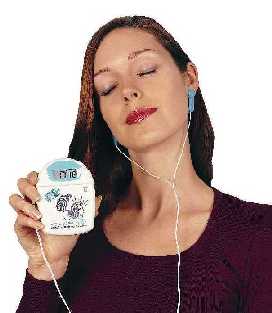 Stressed?
Life can be brutal...
Why suffer?
The new Alpha-Stim SCS
...to control anxiety, depression, and/or insomnia without drugs
in just 20 minutes every other day!
Use it while reading, working at your desk, or watching TV!
Attach the clips to your earlobes
and switch on
switches off after 20 minutes or
one hour
www.alpha-stim.com
Quiet your mind with
the Alpha-Stim SCS
Wet the clips with the enclosed conductive solution, and attach them to your earlobes.

Press the left-hand button to switch on, and press the right-hand button to select 20 or 60 minutes.

Adjust the intensity of the stimulation using the dial on the side.
So simple to use –
it's as easy as 1,2,3!
The Alpha-Stim SCS treats anxiety, depression, and/or insomnia with tiny electrical currents similar to those found naturally in the body, using a method called cranial electrotherapy stimulation (CES).
The treatment is simple. The current is applied by easy-to-use clip electrodes that attach to your ear lobes.
What does it feel like?
You may feel a slight tingling sensation under the electrodes, but it is not necessary to feel this in order to achieve results. Most people feel nothing at all except positive results.
How can the Alpha-Stim SCS help?
The Alpha-Stim SCS empowers you to control your anxiety, depression, and/or insomnia. Used just 20 to 60 minutes every day, every other day, or on an as-needed basis, it can help induce a relaxed state and enable the user to focus attention on the task at hand. The Alpha-Stim SCS is well tolerated and very safe in contrast to drugs, many of which have been proven to have undesirable side effects and can be addictive.
The Alpha-Stim SCS leaves the mind alert. The person undergoing CES treatment will often report a pleasant, relaxed feeling of well-being. Anxiety reduction is usually experienced during treatment, but may be seen hours later, or even the day after treatment. Depression and insomnia control is generally experienced after one to two weeks of daily treatment.
Maintenance of a relaxed, yet alert state is generally achieved with treatments three times per week. As a result, the Alpha-Stim SCS is suitable for clinical or home use.

What scientific research has been conducted?
At present, there are over 125 research studies on CES in humans and 29 experimental animal studies. The overwhelming majority of the scientific research is extremely positive. No significant lasting side effects have been reported.
Harvard University School of Public Health, Department of Health Policy and Management found: "The meta-analysis of anxiety showed CES to be significantly more effective than sham (P<.05)." (Meta-analysis of randomized controlled trials of cranial electrostimulation: efficacy in treating selected psychological and physiological conditions by Dr. Sidney Klawansky et al. Journal of Nervous and Mental Disease, 183(7):478-485, 1995.):
What are the typical results?
In recent surveys, physicians and patients reported the following results using Alpha-Stim® CES technology:
Physician Post Marketing Survey of Alpha-Stim® Patients

Condition

N*

Slight 0-24%

Fair 25-49%

Moderate 50-74%

Marked 75-100%

Significant >25%

Anxiety

349

6.30%

11.17%

25.50%

57.02%

94%

Depression

184

10.33%

16.85%

20.65%

52.18%

90%

Stress

259

6.95%

14.29%

27.03%

51.74%

93%

Insomnia

135

20.74%

12.59%

25.19%

41.48%

79%

Results of using Alpha-Stim technology by physicians. For additional information see the book: The Science Behind Cranial Electrotherapy Stimulation, 2nd Ed. by Dr. Daniel L. Kirsch. Medical Scope Publishing Corporation, Edmonton, Alberta, Canada, 2002.


Peer-Reviewed Outcomes on Alpha-Stim Patients' Self-Reports

Condition

N*

Slight 0-24%

Fair 25-49%

Moderate 50-74%

Marked 75-100%

Significant >25%

Anxiety (alone)

128

10.16%

22.66%

32.81%

34.38%

90%

Anxiety (with other)

370

8.92%

22.97%

32.97%

35.14%

91%

Anxiety/Depression

58

5.17%

32.76%

32.76%

29.31%

95%

Depression (alone)

53

13.21%

20.75%

43.40%

22.64%

87%

Depression (with other)

265

10.94%

23.02%

35.09%

30.94%

89%

Stress

123

4.88%

24.39%

31.71%

39.02%

95%

Insomnia

163

6.13%

28.83%

28.83%

36.20%

94%

Results of using Alpha-Stim® technology at home for a minimum of 3 weeks. For additional information see the article: Is microcurrent stimulation effective in pain management? An additional perspective by Dr. Ray B. Smith. American Journal of Pain Management, 11(2):62-66, 2001.
*N refers to number of patients.
"This is the way we're
supposed to be all the time"*
"[CES] sounded like something both interesting and desirable to me, which is why I was sitting there beside the Alpha-Stim with those electrodes clamped to my earlobes... The machine was turned on, and I felt a tingling sensation of tiny pinpricks in my earlobes, as a few microamps of 0.5 Hz passed into my brain... the shift in consciousness was quick and unmistakable. My body immediately felt heavier, as if I was sinking down into myself. I realized I was becoming extremely relaxed, and all of a sudden, there I was. It was that feeling you get when all at once you blink your eyes and realize that you're awake. Not that you had literally been sleeping, but you hadn't been paying attention to things as carefully as you might, you had been sleepwalking through your day, and now you're awake and things are very, very clear. It was not a feeling of being in some strange stoned or otherworldly state, but rather a feeling of being exactly as you should be, at home in yourself a feeling that your brain was operating correctly, efficiently, clearly.... My body was no longer heavy, but very light, full of energy. The

feeling was one of openness, clarity, as though I had been wearing sunglasses for weeks and had suddenly taken them off. It was no big thing. Nothing special, really, except I couldn't help but feel that this is the way were supposed to be all the time. From the book Megabrain by Michael Hutchison, Ballantine Books, New York, pages 125-126.

*Individual results will vary.


How does the Alpha-Stim SCS work?

The Alpha-Stim SCS sends this unique waveform through the ear clips

The Alpha-Stim SCS is distinct in that it is based on the concept that the biophysics underlying the body's biochemistry also plays a significant role in regulating all of life's processes. Doctors are taught that there are about 75 trillion cells in a human body, each having an electrical potential across its cell membrane, similar to a battery. The Alpha-Stim's proprietary waveform works by moving electrons through the brain at a variety of frequencies, collectively known as harmonic resonance. This normalizes the electrical activity of the brain as measured by an electroencephalogram (EEG).

The Alpha-Stim SCS:
safe, effective, and easy to use.
EEG before treatment
This first chart shows a typical pain patients brain waves averaged over two minutes. This is an abnormal frequency pattern.

EEG after treatment
This second chart was taken from the same patient after 10 minutes of Alpha-Stim use. It shows beneficial smoothing of the brain waves to a normal pattern.

From research by Dr. Michael Heffernan. "Comparative Effects of Microcurrent Stimulation on EEG Spectrum and Correlation Dimension." From the journal Integrative Physiological and Behavioral Science, 31(3):202-209, 1996.
What you get
Each Alpha-Stim SCS is packaged complete with...
compact Alpha-Stim SCS console unit
one set of ear clip electrodes
200 felt pads
15 ml bottle of Alpha Conducting Solution™ for moistening the electrodes
9-volt battery (good for about 100 treatments)
convenient genuine leather carrying case which can be worn on a belt
illustrated owner's manual
This is everything necessary to begin to use the Alpha-Stim SCS for management of anxiety, depression and/or insomnia right away.
Five-year warranty
Each Alpha-Stim SCS is warranted to be free from defects of workmanship and materials under normal use for a period of five years except for replacement of batteries and accessories. See Owners Manual for complete details.
Prescribing Information
CE conformity statement for Europe: The Alpha-Stim SCS is a Class IIa, Type B medical device. It has been independently tested by outside agencies in order to provide assurance of conformity to applicable standards for medical equipment safety and electromagnetic compliance.
Caution statement for United States: Federal law (USA only) restricts this device to sale by, or on the order of, a licensed health care practitioner. Outside the USA it is available world wide without a prescription but consultation with a qualified health care professional is recommended for difficult and unresponsive problems or when used with pharmaceuticals or other therapeutic intervention.
Indications: Alpha-Stim cranial electrotherapy stimulation (CES) technology is continuously being subjected to rigorous study and evaluation by the international medical community. Findings to date indicate that the Alpha-Stim SCS is an effective treatment with broad applications for a variety of anxiety disorders, or for the short term relief of the symptoms of anxiety, depression and/or insomnia. In many cases it is the sole therapeutic method required. As with any therapeutic intervention, not all people will respond to the Alpha-Stim SCS. The degree of efficacy will vary with the nature of the problem being treated and the overall health of the person.
Contraindications: Alpha-Stim SCS may affect the operation of cardiac pacemakers (particularly demand type pacemakers).
Precautions: For external use only. Do not allow children to use or handle this device without adult supervision. Do not operate potentially dangerous machinery or vehicles during, and in some cases, for several hours after treatment. Safety of stimulation has not been established during pregnancy. There have been isolated reports of blood pressure being lowered by CES so care should be taken while using the Alpha-Stim SCS with high blood pressure medication.
Adverse effects: Adverse effects are usually mild and self-limiting. Adverse effects seen in approximately 4,541 patients in controlled, open, uncontrolled conditions, and by physician survey and reasonably associated with the use of CES are dizziness (6 cases, 0.13%), skin irritation/electrode burns (5 cases, 0.11%), and headaches (9 cases, 0.20%). Prolonged CES treatment at higher than necessary currents may cause dizziness or nausea that can last for hours to days. Treatment immediately prior to going to sleep may cause difficulty sleeping due to increased alertness. It is recommended that CES be used at least 3 hours before going to sleep. Paradoxical reactions such as hyperexcited states, increased anxiety, and sleep disturbances may occur. If the Alpha-Stim SCS does not control your anxiety, depression and/or insomnia within 3 weeks, discontinue use and consult your physician.
Technical details:
| | |
| --- | --- |
| Power Source: | one 9-volt battery (included) |
| Current: | 10 to 500 µA continuously adjustable |
| Frequency: | 0.5 Hz (pulses per second) |
| Waveform: | bipolar asymmetrical rectangular waves, 50% duty cycle, 0 net current |
| Mechanical: | height: 10 cm, width: 7.5 cm, depth: 2.3 cm, weight: 106 gm with battery |
Type B Equipment.
This stimulator
is internally powered only.

See instructions for use.
Read the manual thoroughly before using.
marketed by:
Core Medical Consulting
Box 391
Agoura, California 91376
Cellular: 818.807.2050
Phone: 818.991.7676
Fax: 818.889.0055
info@coremedicalconsulting.com


Authorized Representative:
MediMark Europe
11, rue Émile Zola - BP 2332, 38033 Genoble Cedex 2 - France
Tél.: +33 (0)4 76 86 43 22, Fax: +33 (0)4 76 17 19 82
E-Mail: medimark@easynet.fr